Friday, May 25, 2012 11:00am
4

days

1

hours

11

minutes

42

seconds
left until this year's festival

MAY 25 · 26 · 27, 2012
Landolt Pavillion, Clear Lake Park
Seabrook, Texas
Presented by the St. John the Theologian Greek Orthodox Church

The beginnings of the Greek Orthodox community in Webster, TX began in 1993 with a small but growing Greek community.
We began the Greek Festival as a way to share our culture and heritage with our neighbors. At the Festival our neighbors can sample our food, our culture and visit our church see the awe inspiring Byzantine iconography. Here we are in 2012, working on our 19th Greek Festival. This three day festival takes the combined efforts of everyone in the church. The Ladies, young and old, will cook for weeks on end to get the pastries done just right. The men will build the infrastructures for the festival and also cook. Everybody works even the children!
The Greeks at one time had conquered the known world and excelled in philosophy, arts and medicine. They were also one of the first to accept Christ. The bible was written in Greek and the liturgy or service that was developed 2000 years ago is still practiced at St. John the Theologian Greek Orthodox Church every Sunday in Webster. As you can guess we are proud of our church and our heritage and we welcome you!
Yassou!
Join us in a celebration of Greek culture at the Annual Clear Lake Greek Festival May 25th through the 27th, at the Clear Lake Park in the Landolt Pavilion, Seabrook (just off NASA Pkwy).

This spectacular three-day Greek Festival is a wonderful family event that each year draws more than 5,000 visitors from around the Clear Lake Area greater. Along with the exquisite Greek cuisine, there will be live music and traditional dancing.

It all starts with lots of fantastic, mouth-watering food and drink, and it keeps on going with the fun and excitement of our dancing, music. Before you know it, you'll be shouting, "Opa!" just like the Greeks.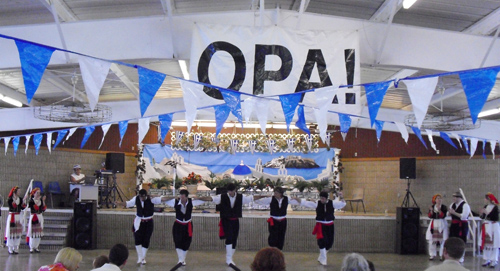 Find the meaning of kefi (joy) in this three-day true Greek extravaganza!
The Clear Lake Greek Festival will feature delicious Greek meals and desserts, traditional Greek wine, nonstop music and dancing, exciting exhibition folk dancing, rides & moonwalks in the children's amusement area. Buy your tickets today! General Admission tickets are $4, and Presale tickets include admission fee and a meal of your choosing for $12.